OEM Linking Pin: 2019 Chevrolet Silverado/GMC Sierra LD - Radiator Core Support Replacement
As part of the I-CAR Repairability Technical Support (RTS) OEM linking pin activity, we are helping to connect the collision repair industry to the vehicle makers. Recently we had a technical inquiry that asked for clarification on the radiator core support procedure on the 2019 Chevrolet Silverado/GMC Sierra new model light duty (LD).
This repair procedure has several key differences that you should be aware of. The radiator core support procedure is done by removing factory spot welds on the inner upper rail, and by creating a sectioning joint on the outer upper rail. Once the fender bracket is removed, the factory die mark for the cut line will be visible. After cutting where specified, the remaining attachment points of the upper rail and the lower attachment points are removed.
The radiator core support service part will come as one unit. There will also be two "caps" that are used for attaching the service part to the outer upper rails. After attaching the service part in the lower attachment areas and at the inner upper rail, the "caps" must be installed. Like the rest of the service part, the "caps" are installed by weld bonding. Also note, there are some differences between the left and right-side procedures that must be followed.
After the radiator support is fully installed, the fender bracket is installed using rivet bonding. The "caps" come with two holes predrilled for proper alignment of the fender bracket.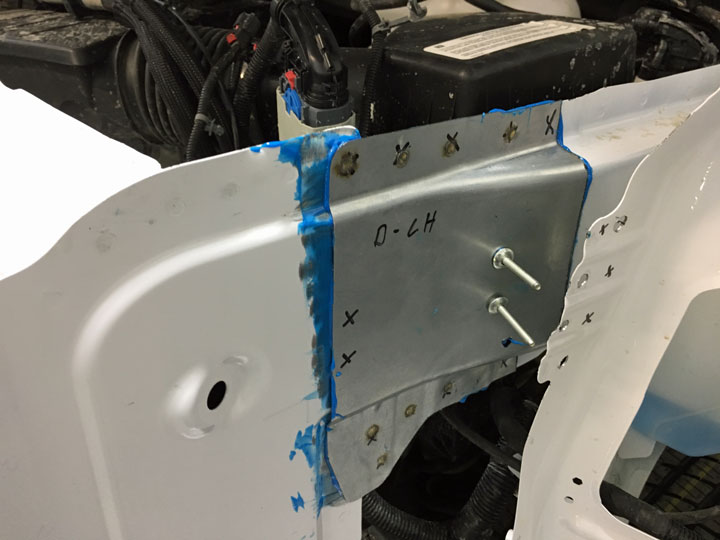 Courtesy of General Motors. GM has confirmed that the specified rivet for this procedure is the same if the bracket is being installed on an original upper rail, a replaced upper rail, or on the "cap" utilized in the radiator core support replacement procedure. Part numbers for the required GM blind rivets can be found in the body repair manual (BRM) by clicking on the Fastener Specification link in the repair procedures. The chart also provides the grip range for each fastener listed.
Additional I-CAR Collision Repair News you may find helpful:
Collision Information Website Access: General Motors
How Does the I-CAR OEM Linking Pin Process Work?
Step-By-Step: Accessing General Motors Repair Information

---
Related I-CAR Courses
---