Submit A New Collision Repair Question
Please note that the I-CAR Repairability Technical Support Portal and Ask I-CAR are intended for use only by trained collision repair professionals.
Unable to find an answer to your technical question? No worries, submit your question using this form. A member of I-CAR's expert team will respond to you within 24 hours.* If you would prefer to speak to an expert directly, please call during normal business hours (M-F, 7 a.m. – 4 p.m. CST*) at: 800-832-4990 option 1. (all calls may be recorded)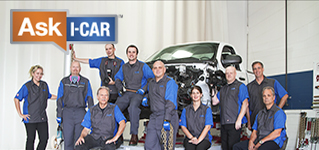 Hyundai Motor America currently offers body repair manuals on these models in the U.S:
2019-2022 Hyundai Nexo (FE)
2020-2022 Hyundai Palisade (LX2)
2019-2023 Hyundai Santa Fe (TMA)
2020-2022 Hyundai Sonata (DN8A)
2021-2023 Genesis G80 (RG3)
2021-2023 Genesis GV80 (JX1)
For BRMs not yet published, continue to submit an Ask I-CAR inquiry and we will send it to Hyundai/Genesis. Stay tuned for more information on the RTS website and for updates on additional Hyundai/Genesis body repair manuals being published.
---
*Inquiries received during normal business hours will be responded to within 24 hours. Inquiries received on weekends or holidays will be responded to within 24 hours of the next business day.