OEM Linking Pin: 2019 Chevrolet Silverado/GMC Sierra Front End Module Sectioning
The 2019 Chevrolet Silverado and GMC Sierra have two procedures for replacing the front-end module (Body Front Structure Parts Replacement). The front-end module consists of the radiator core support, front upper rail assemblies, front wheelhouse panel reinforcement, and supporting brackets. These procedures are differentiated depending when the vehicle was built. While researching these procedures, we observed what appeared to be conflicting information within the procedures. We reached out to General Motors (GM). Here is what they had to say.
Affected models include:
2019 Chevrolet Silverado and Sierra 1500 (New Model) - 2WD
2019 Chevrolet Silverado and Sierra 1500 (New Model) - 4WD
The determining factor is based on whether it was built before or after July 12th, 2018.
Our contact at GM made us aware that there is a service bulletin, Document ID# 5129016, that covers this repair procedure and provides additional clarification. This bulletin is great to print off and reference in conjunction with the repair procedure.
The area of confusion is how to view the illustrations of the rail in the body repair manual (see Figures 1 and 2). The two pictures may look as if they are referring to different sides of the vehicle, but they are, in fact, both depicting the inner portion of the front upper rail on the driver side. It may be helpful to view these illustrations imagining you are looking at them while standing in the engine compartment of the vehicle.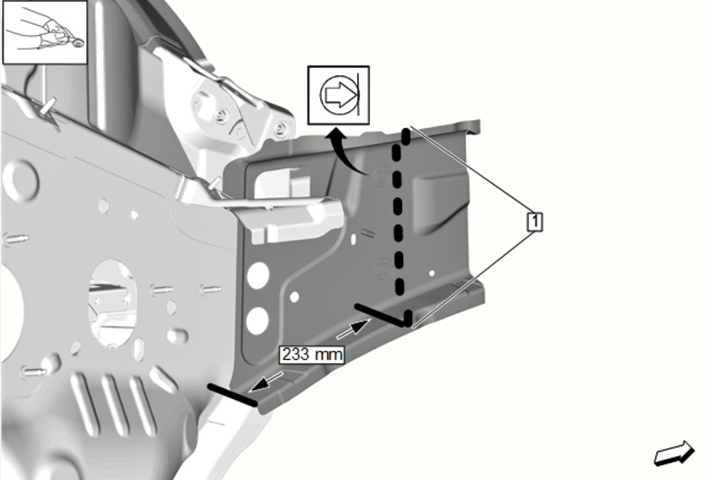 Figure 2 The light grey colored area in both illustrations is the engine compartment cowl and the dark grey area is the left front upper inner rail.
Now that we know how to view the illustrations, let's take a look at the two procedures. The difference between them is in regard to the sectioning location. For the passenger side, the procedures are identical regardless of the build date of the vehicle.
The driver side, however, has some differences that must be addressed and specific instructions that must be followed.
On vehicles built before July 12th, 2018, measure 15 mm forward of the factory die marks (towards the front of the vehicle) for the correct sectioning location (see Figure 1).
For vehicles built on or after July 12th, 2018, the correct sectioning location is directly on the factory die marks (see Figure 1).
Our contact confirmed that the illustrations are correct, and "the measurement of 233 mm for the sectioning location is consistent regardless of the build date or the location of the die marks." (see Figure 2)
The information from GM, along with the bulletin, greatly clarified the procedure. This was a reminder on how important it is to look beyond the procedure for additional information to ensure a complete, safe, and quality repair.
For additional GM information, check out the following pages:
Chevrolet OEM Information
GMC OEM Information
Buick OEM Information
Cadillac OEM Information
Additional I-CAR Collision Repair News you may find helpful:
Collision Information Website Access: General Motors
How Does the I-CAR OEM Linking Pin Process Work?
OEM Linking Pin: 2019 Chevrolet Silverado/GMC Sierra LD - Radiator Core Support Replacement
Step-By-Step: Accessing General Motors Repair Information

---
Related I-CAR Courses
---