Where Do I Find Other Types Of Information In Kia?
Navigating OEM websites can be challenging when searching for collision repair procedures, especially as no two OEM websites are alike. What happens when you need to find other types of repair information, such as, "What needs to be inspected after a supplemental restraints system (SRS) deployment?", or "Does the tire pressure monitoring system (TPMS) require a scan tool or specialty tool?" Let's take a closer look at the Kia website.
Go to the Kia website at www.kiatechinfo.com.

Figure 1If you haven't already, you will need to register for a username and password and then purchase a subscription.
Upon logging in,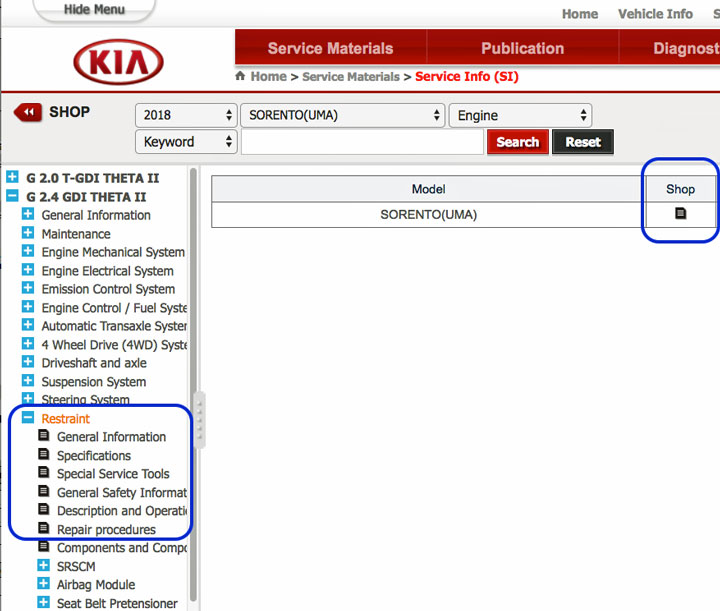 Figure 2 you will need to enter the year and model in the Service Materials ➤ Service Info (SI) tab. Various selections will become available in a table (see Figure 1) for you to select. By clicking on Shop and then expanding the corresponding engine size on the left-hand side, sub-menus become available (see Figure 2). For example, you will be able to locate "Component Replacement After Deployment" by clicking on Restraint ➤ Repair Procedures.
Kia also provides a Keyword search feature located beneath the vehicle information. Here you can simply type in a keyword, such as TPMS (tire pressure monitoring system). The search results will provide all areas in which TPMS is referenced.
For additional Kia information, check out the Kia OEM Information page.
Additional I-CAR Collision Repair News you may find helpful:
Collision Information Website Access: Kia
Where Do I Find Other Types Of Information?

---
Related I-CAR Courses
---