Inside the Aluminum Revolution: Factors to Consider When Upgrading - SCRS Press Release
Originally appeared as a SCRS Press Release
Prosser, Washington, March 4, 2015 - Not since the introduction of the unibody vehicle has there been as revolutionary a topic to hit the collision repair industry as aluminum repair. With more and more cars and trucks equipped with this innovative material - as well as tools, products and equipment specifically designed for them - entering the market every day, the debate on how and with what to best perform proper aluminum repairs rages on. The Society of Collision Repair Specialists (SCRS) recently sat down with representatives from the equipment and tooling sides of the industry, as well as several collision repair facilities who have taken the plunge of upgrading, to get their perspectives on repair safety, the importance of accurate information and their personal experiences on the front lines of the aluminum revolution.
As someone who has seen his share of tools, fasteners and repair solutions, Bastian Hartmann, project manager of Advanced Joining Technologies for Indiana-based Bollhoff, Inc., a self-piercing rivet (SPR) fastener and tooling company, is well aware of the importance of a good tool - and the devastating consequences of an inferior one. "A company who wants to provide a proper SPR repair kit should not only sell a tool, but also have the experience and competence to guide their customers on how to set an SPR properly based on the application or material combination," he says. "SPR equipment in mass production runs with high setting forces of up to 80kN (approximately 1.5 seconds per joint), and full process monitoring on parts fixed and clamped in engineered devices. To match the same joint quality with a handheld tool in a workshop requires not only different parameters, but also training on the technology itself. Training should be provided to all operators in the correct use of tooling and appropriate personal safety equipment should be worn at all times."
"Rivets can take up to 11,000 pounds of force on an 8-millimeter tip," notes Dave Gruskos, president of Reliable Automotive Equipment (RAE). "Tip quality and arm stability is vital to performing a safe and proper repair. Also, the types of rivets vary from one OEM to another, so one needs the ability to adapt the rivet to fit each job. A battery-powered rivet gun for a tiny rivet, for example, may not be the best direction."
So how can repairers be sure they're using the right tools for the job, and more importantly, stay safe while working with them? "Collision repair professionals should be purchasing tools that have been approved and tested by car manufacturers," enforces Gruskos. "There should be training provided on the tools' proper use by suppliers that have a tech line. But it doesn't stop there; repairers should continue to be trained - and retrained - yearly, and should also have tools certified on an annual basis as well."
"For the installation of the SPR, body shop operators should follow the tool's operation manual and OEM guidelines, including all safety procedures," adds Hartmann. "For the application, in the best case, there is an OEM repair guideline existing which describes the exact setting parameters and the rivet/die combination to use at a certain location. This takes away the 'guessing' on the operator side and keeps both body shop and customer safe. If such a document is not available, the OEM should provide a general SPR guideline and the provider for the equipment should be able to help the operator achieve the joint quality described in the document."
There is a plethora of information to consider when researching the decision to upgrade or modify tooling and equipment in the shop. However, in many cases, some of the most valuable data can often come straight from the real life experiences of those who have experienced it firsthand. SCRS Past Chairman Gary Wano of G.W. and Son Auto Body, Inc. in Oklahoma City, Oklahoma is a facility owner who has adopted advanced equipment and tooling to prepare for the future. As he advises, the decision cannot be made overnight. "The adoption of advanced programs, tooling, equipment and procedures has to be birthed from leadership, but a continual culture of learning must also be embraced, from the very top to the very bottom of the shop," he says. "This is not just a plaque on a wall; it's about making sure the correct processes are in place, about continually investing in the improvement of your business and about making sure that the people you have along for the journey are as dedicated to the business' success as you are."
Once a shop has committed to upgrading, SCRS board member Kye Yeung of European Motor Car Works, Santa Ana, California, notes that the research process into tool and equipment purchases should encompass the past, present and future. "As a shop owner, [deciding on equipment for advanced materials], I would look back at which lines I repaired, who my customers were, and whether those OEs were thinking about changing their production or technology in the near future, i.e. carbon fiber. You don't want to circumvent a process where a manufacturer comes up with something unique, leaving you with outdated equipment. If you're going through that push to upgrade, start slowly; get all the basics out of the way before deciding exactly what large purchases to buy."
As Yeung continues, those large purchases should be considered with universality and convenience in mind whenever possible. "Like any type of purchase, the so-called 'right' brand would in my eyes have to include a service network that's easily attainable. Our shop was originally involved with the Aston Martin factory approved program, and every piece of equipment had to be imported. Even their adhesives were Euro-specific; you simply could not get them in the States. The accessibility of service is huge. And my suggestion would be, before you jump, see what required equipment can be used on multiple lines."
"The manufacturers dictate the tools, the equipment and the training that are mandatory [for the repair of advanced materials]," adds SCRS Chairman Ron Reichen, Precision Body & Paint, with multiple locations in Oregon. "If you're going to take that plunge and invest in becoming a certified shop, you need to make that decision to either dip your toe in the water, or to jump in and become certified for several lines. If you invest in building a clean room for Audi's certification program, for example, you'll be able to use that space for several lines. Some pieces of equipment also have crossover, and with an average cost of $10,000 apiece or more on rivet guns and between $20,000 to $30,000 on welders, the economies of scale really do come into play in some respects. Do your due diligence, do your homework and pay attention to the big picture."
While market demand is also hugely influential to the decision-making process, Reichen stresses, "Research whether your market will support the lines you want to work on before purchasing equipment to fix them. Outside of your relationship with the OE, the most important tool in a repairer's arsenal can be one's own peers. Wano agrees, "My relationships with my industry colleagues have been extremely helpful in my research. Whether it's calling around to get their experiences on a certain piece of equipment or getting their take on a particular tool, keeping the lines of communication open helps us all make more informed, realistic decisions for our customers." Yeung adds, "Your relationship with the OE and sponsoring dealer is very important because if you don't have that affiliation, you might not know where to start in terms of purchasing equipment or getting training. Industry groups and communication are incredibly important to help facilitate that."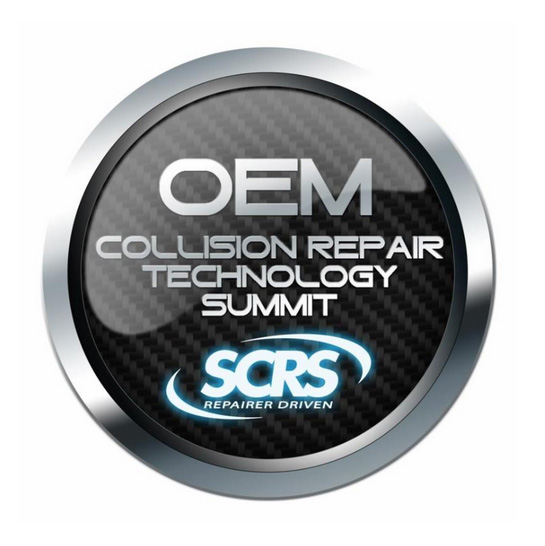 "The SCRS' OEM Collision Repair Technology Summit held during the SEMA Show allowed us to hear from the aluminum and steel industry, as well as multiple automakers and businesses who have gone through the certification process," Reichen says. "Events like these offer tons of information in one place, and grant access to more pieces of the puzzle, which is crucial for repairers who may not know where to start otherwise."
Regardless of where you as a repairer are in the process of determining your shop's future upgrades, one thing is for certain: The OEMs - and industry associations like SCRS - are the greatest source of information on the ins and outs of becoming (and staying) certified, choosing the proper equipment for your business and fostering continued success in the market.
For more information about SCRS, or to join as a member, please visit www.scrs.com, call toll free 1-877-841-0660 or email us at info@scrs.com.
###
About SCRS: Through its direct members and 45 affiliate associations, SCRS is comprised of 6,000 collision repair businesses and 58,500 specialized professionals who work with consumers and insurance companies to repair collision-damaged vehicles. Additional information about SCRS including other news releases is available at the SCRS website: www.scrs.com. You can e-mail SCRS at the following address: info@scrs.com
---
Related I-CAR Courses
---