Nissan/INFINITI Position Statement: Single-Use Parts Replacement
It is often asked, can this fastener, clip, or part be reused? How can we tell if it can or cannot be reused?
One-time use hardware/parts are a specific part that cannot be reused after they have been loosened or removed. Types of one-time use hardware include certain bolts, clips, trim, etc. For example, some mechanical components or safety restraints systems, because, "While these parts may be absent of related damages, the reuse of such parts may cause repair issues and compromise the quality and safety of the vehicle." Let's see how Nissan/INFINITI identifies when a part is one-time use.
Before the repair process begins, the technician should consult the electronic service manual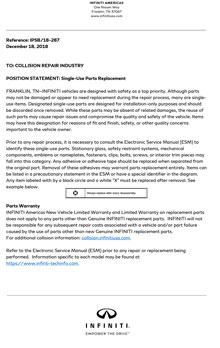 Figure 2 - INFINITI Single-Use Parts Replacement Position Statement. (ESM) to verify parts that are single-use. The manual will indicate single-use parts by showing a symbol with a black circle and a white "X" next to components that should be replaced after removal. This symbol may be shown in the precautionary statements before the procedure, or within the procedure itself. Check out the Nissan Single-Use Parts Replacement Position Statement and INFINITI Single-Use Parts Replacement Position Statement .
For additional Nissan/INFINITI information, check out the following pages:
Nissan OEM Information
INFINITI OEM Information
Additional I-CAR Collision Repair News you may find helpful:
Nissan/INFINITI Position Statements Available: UPDATE
One-Time-Use Parts And Fasteners

---
Related I-CAR Courses
---