Repairability Technical Support Subscriptions
The I-CAR Repairability Technical Support (RTS) Portal is providing new solutions to technicians, appraisers, and shop owners and managers every day. Be one of the thousands who have access to the latest collision repair information at their fingertips and become a subscriber today!
Subscription Options:
Standard
Gold Class
Platinum
Sustaining Partners
Active Training Status*
RTS Daily Access Pass
Free!
Free!
Free!
Free!
Free!
RTS Individual Annual Subscription
Free!

RTS Shop Annual Subscription**

(Collision Repair Only)

Free!
Disclaimer: Some RTS content may link to OEM information outside of I-CAR/RTS and typically requires additional fees.
---
It Pays to Train!
As an added benefit of training with I-CAR, RTS Subscription Access is now included at no additional cost if you or your repair facility fall into any of the following categories:
---
RTS Subscription Features
What Do You Get When You Become a Subscriber?
You gain a research department in your company, for the hard to find information and the information that needs clarification. While the RTS Technical Support Team cannot send out vehicle maker repair procedures (due to copyright laws), they can let you know if the information you are searching for exists before you spend hours and money only to find out that the information does not exist. You will also gain a path to the vehicle makers through our OEM Linking Pin activity. That means that if the RTS Technical Support Team can't find the documentation you need, they will contact the vehicle maker directly to help resolve the issue.
Other Subscription Features Include:
Collision Repair News
OEM Calibration Requirements Search
OEM Partial Parts Replacement Search
OEM Restraints System Part Replacement Search
OEM Hybrid And Electric Vehicle Disable Search
OEM Glass Replacement
I-CAR Best Practices
I-CAR 360 Videos
Ask I-CAR
And More!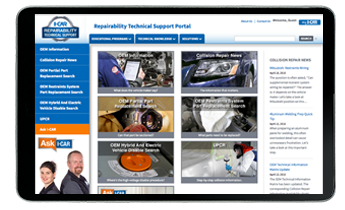 ---
Benefits of RTS
Stay on top of the latest industry news and updates
Stay on top of the latest vehicle technologies and trends
Save time identifying which vehicles have partial part replacement procedures available
Save time and quickly identify the parts that require replacement and the parts that require inspection, following airbag deployment
Stay safe and easily find available procedures
---
RTS in the News

RTS Voted One of Collision Hub's "2014 Favorite Things" for Collision Repair!
"The expanded accessibility to technical information through the Repairability Technical Support Portal is a feature the industry has needed for many years. Collecting all the available information from the OEMs in a single location, we now have a one-stop portal—or hub—for collision repair."
- Kristen Felder, Collision Hub

"A shop whose techs are at the top of their game with training and equipment — and with "Ask I-CAR" bookmarked — should be able to deliver an expert repair."
- John Huetter, Repairer Driven News

Disclaimer: Some RTS content may link to OEM information outside of I-CAR/RTS and typically requires additional fees..